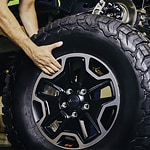 The Mopar plan provides two main benefits every car driver should have – on-the-road damage and maintenance plus you pick the length of coverage. You could use a roadside assistance plan, but the Mopar Vehicle Protection Road Hazard Tire & Wheel coverage plan covers much more.
All four tires and wheels get the same great coverage that provides for the full repair or replacement of all parts related to the wheels and tires from hazardous road conditions including curbs and potholes. It covers aftermarket as well as original equipment manufacturers (OEM) parts, so if you replaced those standard tires with 18-inch aftermarket alloy wheels and something that makes Michelin drool, you are still covered. It also covers the maintenance aspects of this replacement which most plans do not – the mounting, balancing and stems.
You choose the length of the protection plan. They range from two to seven years in length and include vehicles up to ten years in age. Some plans only let you cover a new vehicle. As long as the vehicle has 100,000 miles or less on the odometer, you can obtain coverage.
Let us help you better navigate the area. Call us today at Benny Brown's Red Bluff Chrysler Dodge Jeep Ram schedule an appointment at the dealership's service center.