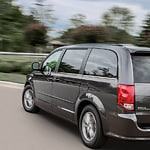 The car you drive is more than just a means of transportation, it is also a statement of your personal style. Here at Benny Brown's Red Bluff Chrysler Dodge Jeep Ram, we recognize this fact, and have assembled some of the relevant information regarding the exterior features of the Dodge Grand Caravan, in order to help show drivers in Red Bluff that even vans can be an impressive expression of style.
Making a statement right from the start, the Quad Halogen headlamps and optional fog lamp accessory can help ensure that you always are able to see where you're going, even in suboptimal driving conditions. In addition to the functional aspect of these headlamps, they, along with the LED taillights in the back, are sure to impress both those ahead and behind you.
Moving back from the front of the vehicle, the exterior mirrors on the Grand Caravan are designed to remain both ice and frost free in cold conditions. The sleek design of these mirrors fits with the overall style of the vehicle and meshes well with the Dodge look.