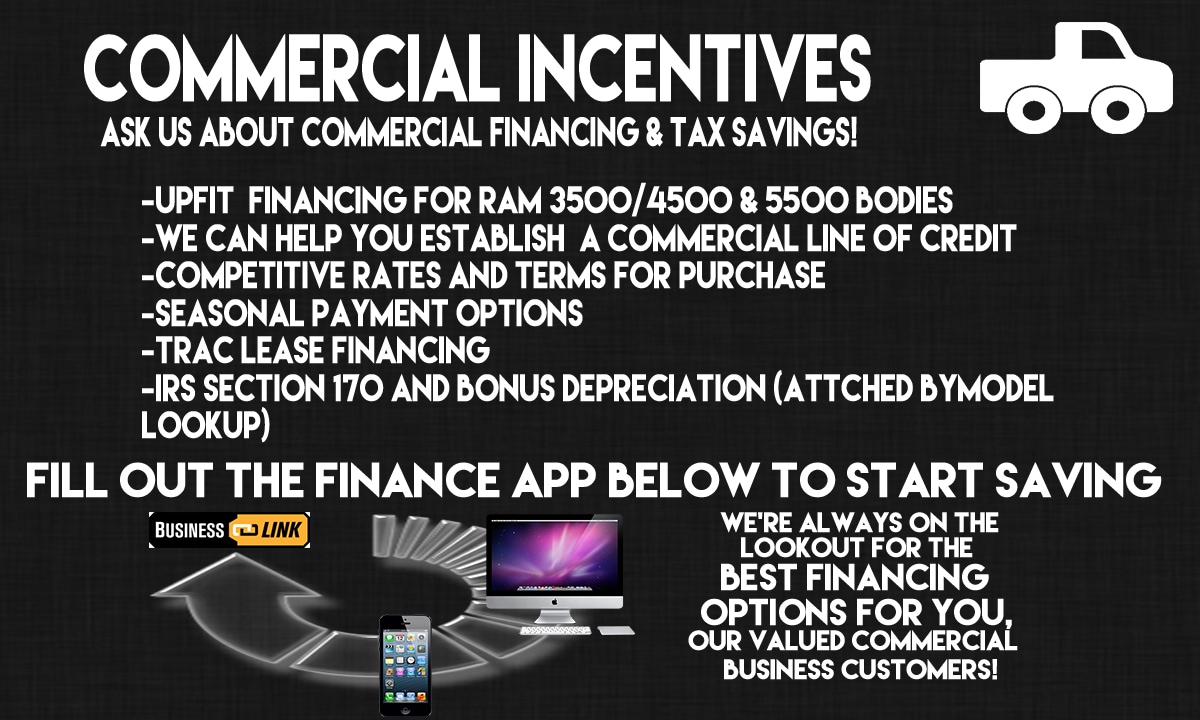 Commercial Vehicle Incentives for Your Fleet Vehicle Purchase in Red Bluff
When you're buying vehicles for your business in Red Bluff, CA, getting the best deal possible is important to maintain your bottom line. With a series of commercial trucks and vans available at Red Bluff RAM, we can help you find the vehicle to best suit your business needs around Chico and Redding, CA. Plus, we'll help you find the best deals and incentives to help make your new commercial vehicle purchase a deal that you can't pass up. Get started by exploring our incentives online, and then pay us a visit to test drive and purchase the vehicles that your commercial fleet need to be successful for years to come.
RAM Heavy Duty Trucks
With our lineup of heavy duty RAM pickups, you can tackle your toughest jobs with confidence. The RAM Heavy Duty truck family of models is available with a variety of engine options to help get your work done, whether that means towing, hauling, or both. With turbo diesel and V8 engine options, a RAM Heavy Duty truck has what it takes to handle towing over 20,000 pounds or hauling over 5,000 pounds in the bed so you can get your equipment from place to place. And with genuine 4x4 capability, you'll have the confidence to venture off the beaten path and serve customers and clients wherever they may be. Take advantage of great commercial incentives to get a great deal on RAM 2500, RAM 3500, and RAM 4500 heavy duty trucks today.
Ram ProMaster Work Van
The RAM ProMaster Cargo Van is based on the RAM Truck lineup, with 2500 and 3500 heavy duty models that give your business a leg up in getting out there. With the expansive cubic footage of these work vans, you can safely bring equipment from job site to job site without worrying about weather and other environmental factors. Perfect for everything from landscaping and detailing to catering and party planning, a Ram ProMaster Cargo Van gives your business a safe and efficient way to hit the road.
Ram ProMaster City
A smaller take on the Ram ProMaster Work Van, the Ram ProMaster City gives you a sense of comfort and a smaller footprint that makes it easier to navigate on tight urban streets and driveways. Perfect for if your job often takes you into private property, parking garages, and narrow alleyways, a Ram ProMaster City maximizes interior space while giving you a van that is easier to drive.
ProMaster Passenger Vans
If your business relies more on people moving than cargo, a Ram ProMaster Passenger Van is the perfect solution. With seating for up to 15 passengers, on-board luggage compartment, and several options for handicap access and seating, a Ram ProMaster Passenger Van makes for an efficient and comfortable passenger van experience for all your shuttle services.
Upfit Financing
Need some extra equipment to make your work van work for you? At Red Bluff Ram you can upfit your Ram Work Van or truck to meet your needs. Add special racks for plumbing and electrical equipment, add refrigeration for your catering business, and so much more. Plus, upfit financing means you can add the cost of your build to the financing of the vehicle for one convenient payment.
Financing Incentives Available
Buying your work van with a commercial auto loan? We have incentives that offer cash back, discounts, and improved interest rates to help get you a great deal.
Ram Commercial Leasing Incentives
Take advantage of Ram Commercial Leasing specials to enjoy great monthly payment options on your Commercial van or pickup truck in Red Bluff.